LOCATION:Gananoque lake, Ontario, Canada

NORTHERN PIKE FISHING TRIP
Air Temp: average 76 degrees
Weather: Overcast with Sun and periods of rain on some days
Water Temp: average 68.0 
Fish Targeted: Northern Pike
Water Quality: cloudy
Lures: no live bait was used, all fish were caught and released on artificial bait... Glitter Jigs, Metal Spinners, Metal Spoons.
Rods: 6.6 fast tip to 7.0 foot medium light spinning / baitcaster.
Reels: Spinning and Baitcasters
Line: 6 lb to 8 lb mono, 15lb braid with 12lb fluro leader
he Glitter Jig lure is new on the market and comes in various colors and configurations. This page is geared to the successful experience we had with it.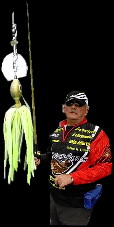 Gananoque Lake experienced a particularly hard winter this year and the fish were slow to respond to jigs and metal lures of any color or size. We were hoping to lock on to some BIG PIKE this lake is known for with this lure because of it's distinctive paint scheme and chatter blade that vibrates well in the water. But despite fishing far offshore in search of weed beds the elusive Pike hide in, we found this lure was attracting more Smallmouth and Largemouth Bass then Pike! If this thing does as well as it did on this trip we are certain it will be a BASS MAGNET come the Sept. 2014 trip we have planned!
The Glitter Jig lure is the creation of Terry Vodickawho has worked hard to perfect this incredible jig. The GUYS used a number of different styles and colors he manufacturers them in but settled on this one as it was the most productive on this particular trip.
Check out some really nice images of the fish we caught using this excellent bait.